Virtual Events and Video Captures with People and Technology You Can Trust
We have a long history in live events, broadcast, and music. When the pandemic struck, we took a hard look at the industry and did hundreds, if not thousands, of hours of research and engineering to find a solution for ourselves, our friends, and our clients. Our goal? Create streaming events in a familiar manner and continue giving our clients the amazing results they expect.
Here's Our Story.
Great event production has always been invisible. The single biggest difference between the old way of producing events and the new way is that we don't all get together in the same room. We've long joked about "the wizard behind the curtain" making everything happen and the virtual events world is only amplifying this notion.

When you work with us, we make it feel like we are all in the same room. The best events are created by skilled teams working together with immediate and near-zero latency communication. SiteUnseen is still doing that, but now the globe is our backstage.
We speak your language. We've been in the trenches with you; from small internal meetings to global press events and high-level multi-city productions. We've been doing them for over 25 years with some of the most demanding producers and creative directors in the world.

SiteUnseen is your virtual partner for today. In the future, we will continue to be your production and IT solution for live and hybrid events. It's where we come from and we know how to make your show a success.

People Talk.
SiteUnseen has the highest quality system I have come across. The ease of use for both the crew and the presenters is top of the line and the final product is one I can be proud of…

They are number 1 in my recommendation list to every production company I work with
–
Alice Perlmutter
Stage Manager
SiteUnseen is my go-to resource for world-class virtual execution! Partnering with their responsive, experienced technical crew provides the peace of mind that we can overcome the inevitable challenges together.
–
Kathleen Muller
Producer
The Site Unseen team is all about finding the right solution for any given challenge. Nothing is "impossible." And they are always looking for ways to build a better mousetrap, which makes them great partners — especially now.
–
Noelle O'Shea
Producer
Presenter Kits
From the beginning, we had requirements for the products we were creating: Quality, Reliability, Simplicity. Luddites Rejoice.

We achieved this with our Presenter Kit. The user experience is simplified "to the nines". Open a single case. From there, it's as simple as 2+2+2. Remove two pieces. Plug in two cables. Push two power buttons and relax. We do the rest.
What's in the Box:
Dual Cellular modem redundancy
17" High-Performance laptop
Z-Cam 4K NDI Cinema Camera
Adjustable LED lighting
Shure TwinPlex Lavalier Microphone
Shure Low-profile IFB earpiece
UPS battery backup
Unity Intercom Client
Vmix 4K License
Enterprise-grade networking architecture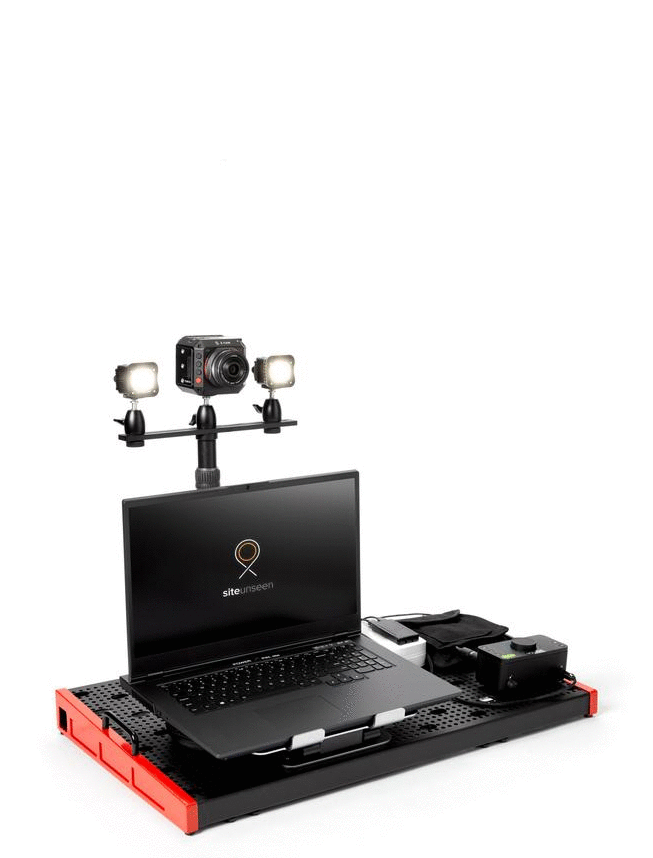 Production Kits
Our Production Kits utilize a familiar MacBook Pro to give your team low latency audio and video stream monitoring, along with multichannel production intercom. Each kit also includes a high-quality headset (with a spare, of course) to ensure speech intelligibility to anyone on our comm system. We include an external 15-button panel to control the intercom. This lets the entire laptop screen be used for monitoring the show, so you can keep your eyes on what matters most.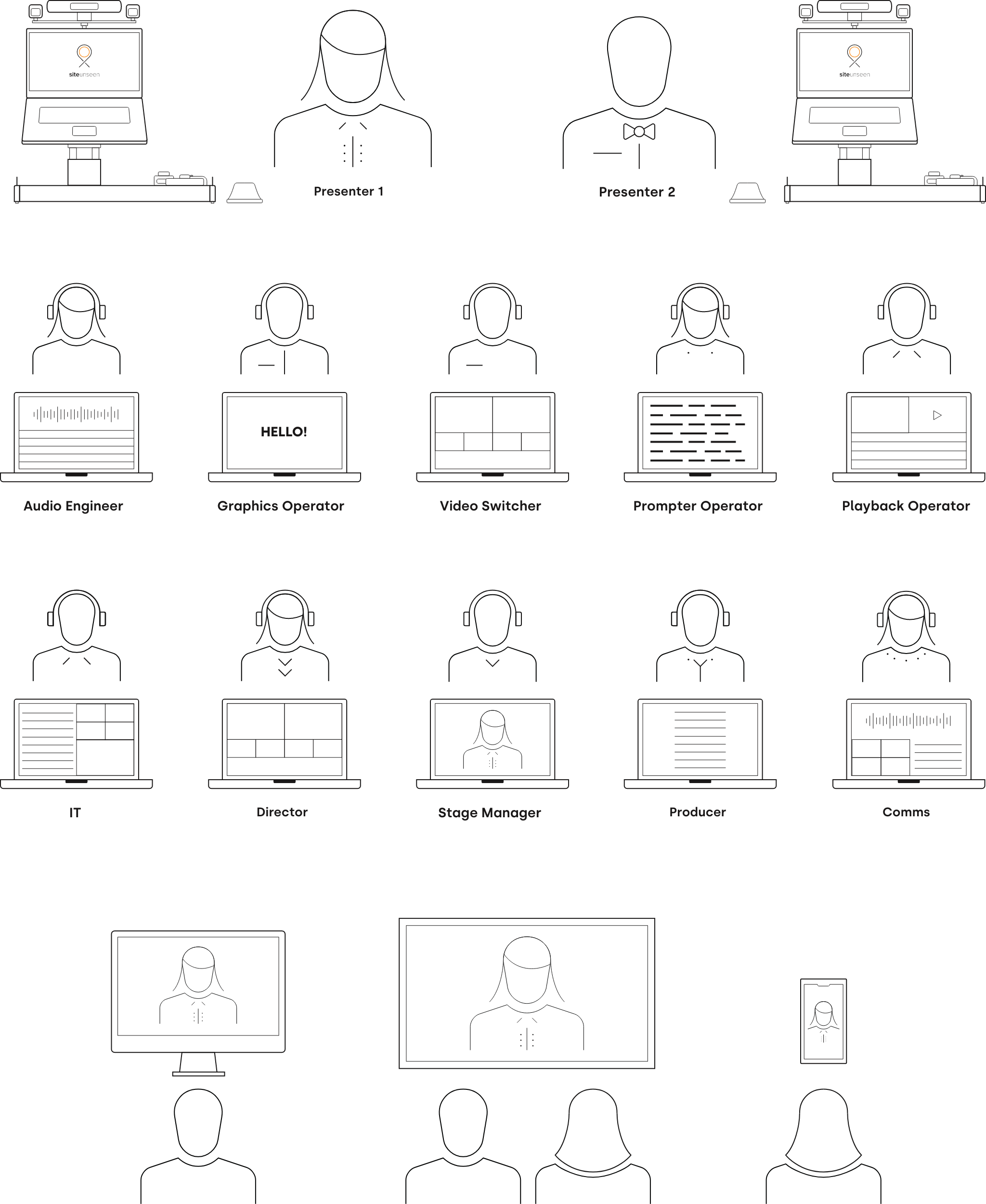 Show Crew to Headset
Need a custom button to have private conversations with someone on your production team? A single button to speak directly to all presenters? Or maybe a special button to chat directly with a show host or moderator on their IFB? Not a problem. Our comm engineer has your back and can quickly program any special request that comes along.
Our Team
We have a nationwide network of Technicians and Partners. Our team is geographically separated; this means regional internet or service issues won't interrupt your work flow. For example, say there's a major power outage in Las Vegas where our show switcher is located. No problem. Our back up technician in San Antonio will hop into the system to cover the show until he or she is back online.

Our network of certified partners allows us to offer White Glove setup and break down almost anywhere you need it. No need to fly technicians in from Los Angeles or New York.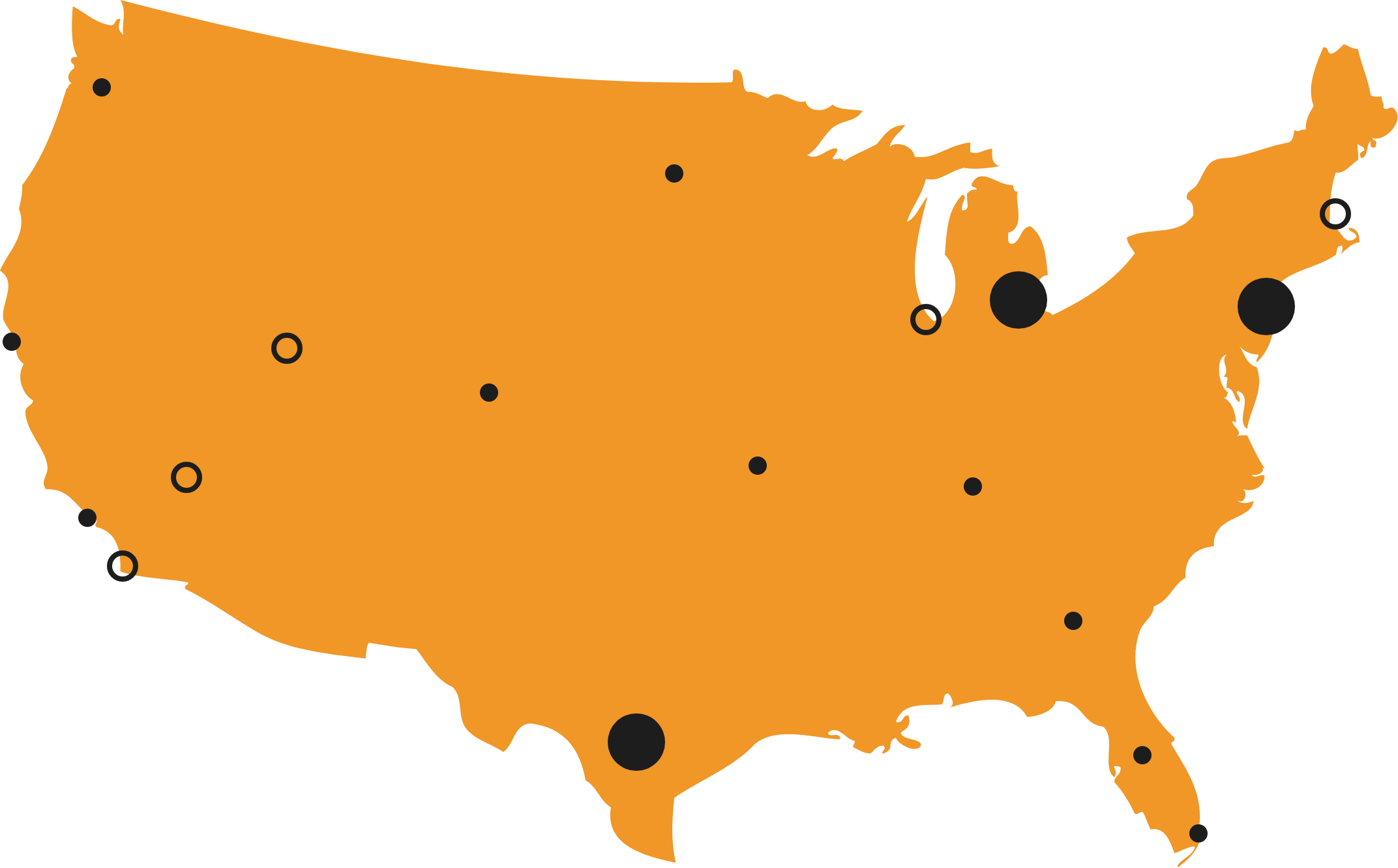 Frequently Asked Questions
It is ok to have questions, maybe we can answer some of them here
Can we record locally?
Yes. We can record locally to the computer and also to an external hard drive for overnight shipping, if required. Files can be uploaded to a site of your choice post record.
How long does it take to set up a kit?
As little as 10 minutes. The average is 30 minutes.
How adjustable is the computer and camera height?
The system is designed to work for a wide range of presenters, from a person sitting at a desk to a professional basketball player who wants to stand for their presentation. Camera, computer, and lights are fully adjustable.
What does the presenter need to do before the setup call?
The presenter should read our short PDF Setup Guide, have the case open with the presenter station removed from the case and placed on the surface they will present from.
Will the kit damage my desk?
No – the kits have multiple rubber feet spaced around the sides to protect all surfaces.
Do we need to perform a virtual site visit?
Our team will perform a virtual site visit via Zoom to establish the best place for you to set up the kit. Our IT team will also perform a simple network test to establish capabilities of the home or office.
What if my hardwired internet connection is far from the room I want to set up in ?
Not a problem. We send hundreds of feet of extra cable with each kit.
Are all items in one case or will multiple cases arrive?
All items are in one Pelican case that fits through standard home doors.
How much does the kit weigh?
The Presenter kit case weighs about the same as an international travel suitcase.
How many cables have to be plugged in?
Two cables total. One power cable and one internet cable. That's it.
What if power goes out at my home?
Our kit has battery and cellular backup. This will keep you online for a reasonable amount of time.
Are there spare cables, microphones etc with kit?
There is a spare of most common components – microphone, earpiece, cables, etc.
Do I have to wear an earpiece (IFB) for the show?
Yes please. It eliminates echo and drastically helps the quality of the sound for broadcast.
I'm a technical mess – how much do I need to know to set up the kit.
Quite honestly nothing. Our experts can easily talk you through the set up.